Community Update No.10
Community Update No.10
14JAN20 0105 hrs UTC+0
On the 25th January 2020 we'll be embarking on the first mission in our operation string for the Ardennes Offensive. This will be a four-mission long string that will likely end with a fifth event as a PvP, however, this is still being organised. On top of this, we are also scheduling another PvP with the 23rd Panzer Division, likely to occur late February time - the scenario for this is to be chosen during a meeting this weekend. After our operation string finishes, we'll be covering some basic training points, ensuring we're on top of our game as we move forward; we'll also be covering some PvP themed training sessions.
A few roles are opening within Company HQ: runner and wireless operator. Job descriptions for both of the roles can be found in the usual place in the
Enlisted Careers
 category on the forums. The Company Runner job is a special one where at certain times they will be mounted on a Welbike. In addition to these new roles, I'd like to take the time to advertise the medic roles available and if anyone would like to become a medic (recruits included) they should get their application in.
If anyone has any ideas for the group then please make sure you let us know, either through a poll in the 
Questionnaires and Polls
 category on the forums or in the #member-ideas channel on Discord. We're always looking to improve and to have new ideas come our way - though be warned that people may not agree with you!
I'd like to give my gratitude to everyone who has been posting media in our #arma-unit-media channel on Discord. Media like this showcases the group and the environment that we play in (even showing some of the bugs that we encounter on the way) and can really help our goal of recruitment of new members. Speaking of new members, we have a lot of new recruits who have recently joined us and many are on track to complete their module III assessment on Saturday - I wish good luck to you all. Current members should prepare to have fresh faces coming into their sections soon and you should try and help these new members integrate as successfully as possible. They are being thrown straight into the deep end in the Ardennes and some may require your assistance. 
Amendment 1: We have recently updated our fire rates and information on fire control orders. These changes can be found in Module I on pages 20 and 21. The changes to fire rates can be found below: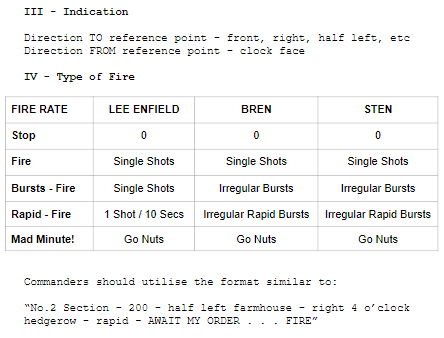 Amendment 2:
Coming on Sunday.
After the ceremony on Sunday, there will be an amendment to the end of this update.
Users browsing this thread:
1 Guest(s)